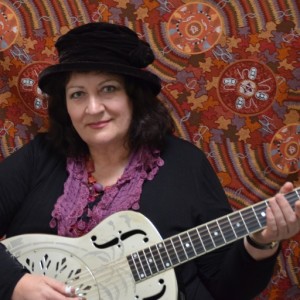 Chris O is a singer songwriter from  Australia playing acoustic blues, folk and roots, with a real old time  flavor. Travelling like a pack pony, she carries her "band" around with her – lap slide, dobro, ukulele, and even a few plain ole guitars. Cooking up the sounds of the Delta from greats such as Memphis Minnie, Blind Lemon Jefferson, Skip James, Big Mama Thornton, Mississippi Fred McDowell, Son House, she also creates and stirs in a whole load of her own songs of our times.
2014 saw the release of her blues CD "Peckman's Plateau", which shot into the Australian Blues and Roots Airplay Charts, staying there for five months. 
In 2016 she released the Award Nominated album "Wailin' & Raggin' the Blues", which also appeared in the Australian and British Blues Charts, was nominated as a Finalist for the Best Self-Produced CD Award from the Blues Foundation of America, as part of the International Blues Challenge Awards.
2017 saw the release of Chris's Folk and Roots CD "Twisted Roots & Twisted Highways", which was a finalist for Album of the Year with Blues and Roots Radio, 2018.
A regular performer at Australian clubs, festivals and dive bars, she also completed three successful blues tours of Europe in 2014/ 2015/2017 and as Solo Blues Performer of the Year in 2016, traveled to Memphis to represent NSW at the International Blues Challenge, USA. 
Chris O guarantees a show full of vintage folk, jellyroll and jinx ~ both covers of the classics and originals.
View Chris's profile on "The Country Blues" website: