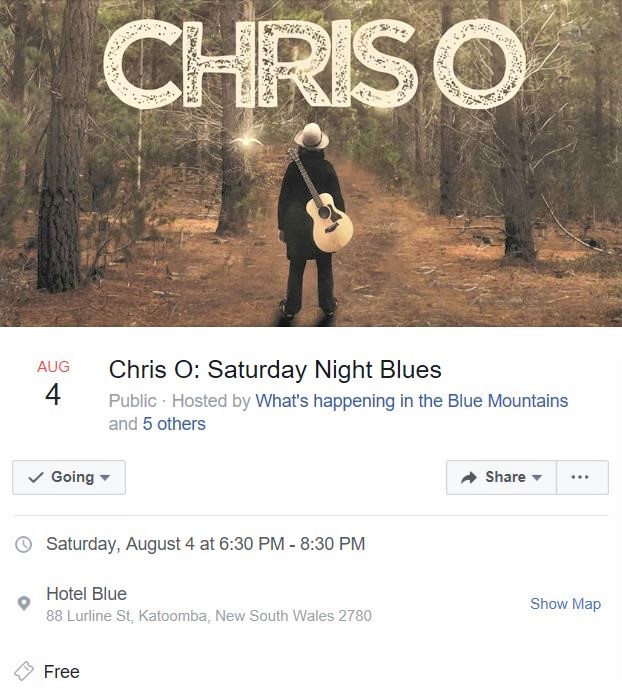 Chris O was the artist who brought the blues back to the Blue Mountains and was one of the Hotel's feature artists during our early days of live music. We've watched Chris release a number of albums, collaborate with national and international artists, and we had our fingers crossed when she won the Sydney Blues comp in 2015. Chris moved to Tasmania earlier this year, so it's been a little while since she performed at Hotel Blue . . . and we just can't wait!
Chris is a singer-songwriter from Australia, who covers the songs of a bye gone era and her own
contemporary roots originals. She plays vintage music, the way it used to be, mixed in with blues and folk that echo global grassroots traditions. Travelling around carrying her "Band", just like a pack on; lap-slide, banjo, ukulele, as well as a few plain ole guitars, stirring up jellyroll and jinx. Chris tours Europe annually, and in 2016 was NSW Solo Blues Artist of the Year representing Sydney Blues Society at the International Blues Challenge, and the National Women in Blues Showcase in Memphis, Tennessee. Her recent blues albums feature in the Australian and UK Blues and Roots Charts, and AMRAP Charts. In 2017 "Wailin' & Raggin' the Blues" was a Blues Foundation (USA) Finalist for Best Self Produced CD.
Join Chris O at Hotel Blue this Saturday Night, 6:30-8:30 pm. Come along early if you want a seat as it's first come, first served. Bar & Kitchen open, family-friendly, free event. Live music @ Hotel Blue is brought to you by 'Music in the Mountains'.